Co-Creating Our Future on Planet Earth
http://www.sott.net/article/306865-Anonymous-leave-ISIL-Alone-NATO-wants-Cyberwar-kept-to-Gov-agencies
International hacker group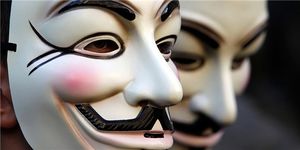 Anonymous should leave its cyberwar effort against ISIL to the authorities, who are better able to deal with the terrorists' internet activities, a NATO security official has said.
The war on Islamic State of Iraq and the Levant (ISIL) declared by Anonymous is "good to some degree," NATO Deputy Assistant Secretary General for Emerging Security Challenges, Dr Jamie Shea, told Euronews, RT reported.
Because of Anonymous' efforts, "ISIL sees that it is not just against the governments and organs of the state, but is against all of the values our population represents," Shea said.
The jihadists are using the world-wide web as a tool for communication, recruitment and fundraising, with ISIL managing some 46,000 Twitter accounts, Shea acknowledged.
"Sometimes those Twitter accounts could also be a useful source of intelligence information in terms of…
View original post 457 more words