Vax facts prior to 'roll up the sleeve' vaccine mandate attempts
Why are the world's top vaccine promoters like Paul Offit and Peter Hotez, frantically warning us about the unique and frightening dangers inherent in developing a SARS- CoV-2 Virus vaccine?
By Robert F. Kennedy, Jr.
In this video footage, the world's top vaccine promoters Paul Offit, Peter Hotez and even Anthony Fauci (in an unguarded moment), warn that any new coronavirus vaccine could trigger lethal immune reactions when vaccinated people come in contact with the wild virus. Instead of proceeding with caution, Fauci made the reckless choice to fast track vaccines partially funded by Gates, without critical animal studies before moving into human clinical trials that could provide early warning of runaway immune response.
Gates (in the video) is so worried about the danger of adverse events that he says vaccines shouldn't be distributed until governments agree to indemnity against lawsuits.
On February 4th 2020, when the Centers for Disease Control (CDC) website states that there were only 11 active CV cases in the USA, the U.S. quietly pushed through Federal regulations giving coronavirus vaccine makers full immunity from liability.
Are you willing to take the risk?
Read more at https://childrenshealthdefense.org/news/heres-why-bill-gates-wants-indemnity-are-you-willing-to-take-the-risk/?utm_source=salsa&eType=EmailBlastContent&eId=c94b3721-ea3d-464f-b8cc-68adb387220c
More Physicians Go On The Record Explaining Why COVID-19 Deaths May Be Exaggerated
https://nworeport.me/2020/04/13/more-physicians-go-on-the-record-explaining-why-covid-19-deaths-may-be-exaggerated/
Architecture of oppression
Shane chats with former NSA spy and whistleblower Edward Snowden on the rise of authoritarianism during the COVID-19 pandemic.
Edward Snowden delves into the world of surveillance, privacy, and our future civil liberties, as international governments and autocratic regimes enact bold, new policies to  curb the virus.
https://www.wakingtimes.com/2020/04/13/they-are-rolling-out-the-architecture-of-oppression-now-because-they-fear-the-people/?utm_source=Waking+Times+Newsletter&utm_medium=email&utm_campaign=e3a2a4293c-RSS_EMAIL_CAMPAIGN&utm_term=0_25f1e048c1-e3a2a4293c-46484861
Register to watch
Parents should be informed about both the benefits and the risks associated with vaccines – without pressure, propaganda, or agenda.
So Ty and Charlene Bollinger brought together more than 60 of the world's foremost health experts – including CHD's Robert F. Kennedy, Jr. – to investigate both sides of this contentious debate to give you the science, the history, and the untold story… the REAL information you need to make an informed decision on how to best protect your child.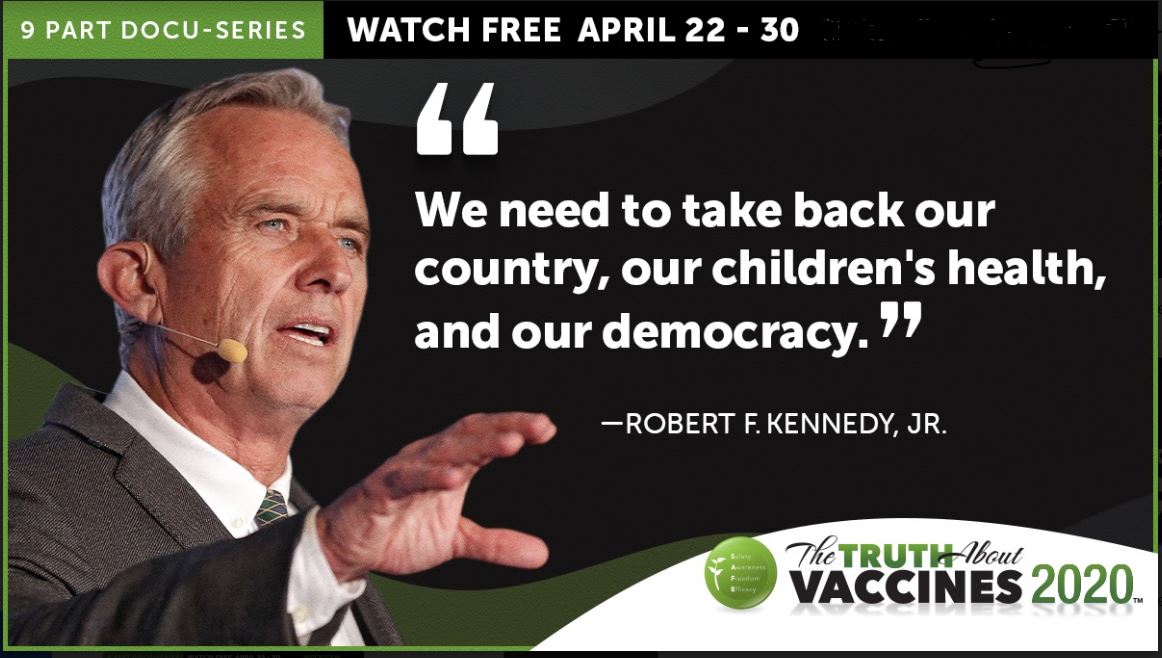 https://go.thetruthaboutvaccines.com/?a_bid=6305d4db&a_aid=5d8b917399c7f&eType=EmailBlastContent&eId=c94b3721-ea3d-464f-b8cc-68adb387220c
Please, spread the word before people CONsent to a vaccine that is said to contain DNA that will override man's original DNA to erase all cause, core, memory and record of the One True Creator in whose Image man was made, and that CONsent to a radio frequency ID 2020 chip is CONsent to be tracked like a wild animal 24/7/365. Thank you.
Sincerely,
Doreen A Agostino
Without Prejudice and Without Recourse
http://freetobewealthy.net
Sent via hardwired computer
All wireless turned off to safeguard life