July 5, 2020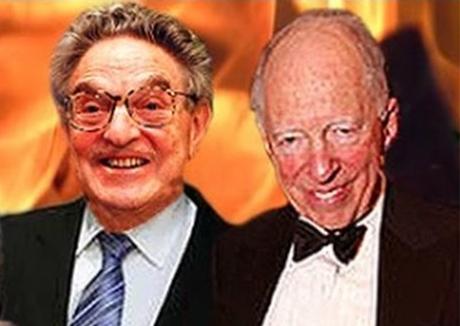 (Jacob Rothschild, right, with his chief go-fer George Soros) 
Reparations to the descendants of black slaves
obscure the real debt the Rothschilds owe to humanity.  
by Henry Makow PhD
It is summer 2014. For the last ten years the forces of evil have been marching steadily onward and their plans are all-too apparent. All the "federal" alphabet soup agencies have been armed to the teeth. Billions of rounds of ammo have been purchased. The local police have been armed with tactical weapons and armored vehicles and are swaggering around looking nervous and fingering Billy Clubs made of Titanium and steel. Every day reports come in of police brutality, more and more evictions and foreclosures, over a million children missing from our streets and schools, test scoresin the toilet and then word comes that vast "FEMA Camps" have been built and stocked and provided with armed guards. There are even rumors of vast underground bases built over the course of the Cold War, large enough to house thousands of people, entire cities underground. The "federal government" dba UNITED STATES, INC., a storefront governmental services corporation for the IMF, the International Monetary Fund, is preparing for something Big— the extermination of its Priority Creditors, the American People.The bosses running the UNITED STATES, INC. stand to make at least a million dollars per dead American as a result of life insurance policies paid for with their own tax money. And then, they also get to collect on all the "abandoned" estate property and 
CONTINUE
SOLUTIONS – ACTIONS – REMEDIES
Self-government is not possible unless the citizens are educated sufficiently to enable them to exercise oversight.